At the last minute, I decided to take off work yesterday to get some more stuff done around the house. I was gone all day Saturday with our church youth group, so I really didn't get a lot done at all this weekend. My goal for yesterday was to find some curtains for the double glass doors that lead out of our kitchen onto the deck. Right now, there's nothing covering it, which is a little weird now that we have neighbors! Here's what I have in mind: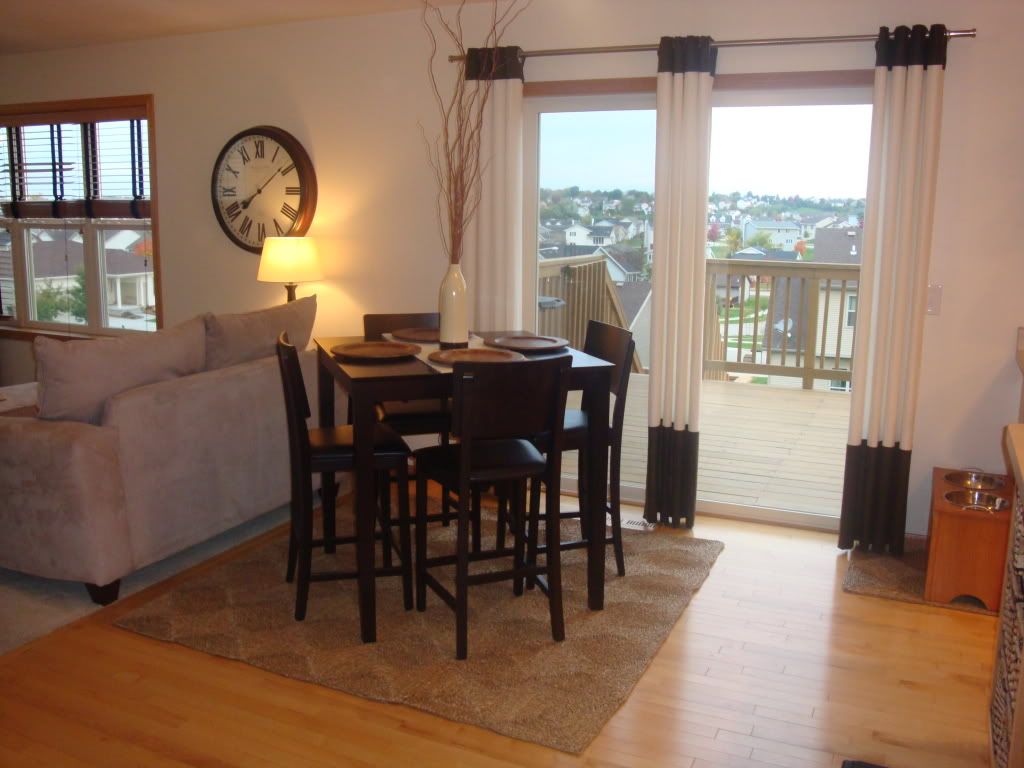 Anyway, now that we have returned to the small-town life, finding decent curtains requires a trip to Huntsville, about 45 minutes away. I decided to make a day of it, and pick up some other things on my list for the house. I did find some curtains that will work for the time being, but I'm not in love with them. I am going to keep an eye out for some fabric and when I find THE ONE, I'm going to make (or have made, more likely) some curtains myself. These doors are really the main focal point as far as curtains go, because the windows in the living room are overshadowed by the fireplace. I picked up some valances for in there, but same story, I'm on the lookout for fabric. I'm hoping to get everything up next weekend, and I will take some before and after pics to share.
SO, I did get the main thing I set out to find yesterday, but I also lucked up on tons of birthday supplies. I'm a champion procrastinator, but I'm trying so hard to get things organized for the girls' first birthday. I will share about my finds later this week.
In the meantime, if you also happen to be looking for birthday party goods (we're all going to have one sometime this year, right?), check out
this blog
. Cat is hosting a Princess Party giveaway bash this week, and it looks like there will be some great prizes. Even if I don't win, I'm looking forward to finding some new ideas. Though the button and the title are pretty girly, I'm sure you mamas with boys can find something useful...and if you win something you can't use, feel free to pass it on to me! : )