Back when I was 15 or so, I had big plans for my life. I was going to college and law school, neither of which would be anywhere near my hometown. I wanted to spend a year in London, either working or taking classes abroad. No marriage until I finished all those other goals first, of course. I wasn't sure what kind of law I wanted to practice, and I considered that I might even want to teach college (that's one part of the plan that did work out).
Well, as we all know, life happens. By the time I graduated high school, I was dating a totally-wrong-for-me older guy with no ambition whatsoever (except his truck; he had plenty of ambitions there, as if it mattered). A real winner, right? I blame it on the ignorance of youth.
Anyway, by the time I went to college, I didn't want to be too far from home. I always knew in the back of my mind that our relationship wouldn't handle any sort of distance well, but at least I had the good sense not to totally derail my college plans. (And thank goodness for a mom who would never have let that happen!) Instead of an Ivy-league school or at least one a couple of states away, I landed at a relatively small university two hours from my hometown. Naturally, like so many others, my high school relationship was pretty much history by Christmas break.
When it came time to make plans to return to school for spring semester, I just couldn't do it. Although my best friend was attending the same college, we weren't rooming together (I had a private room the first semester) and we hadn't made much of an effort to get to know other people or get involved on campus, mostly because of those silly hometown boys we spent so much time worrying about. I chose not to go back to the university. I just couldn't handle going back to a place where I felt so lonely and far away from my friends and family. It was an emotional time, with a lot of change going on in my life, and I needed to be back in my comfort zone. In a matter of just a few days, I made the transfer to the local community college where, incidentally, I now teach.
Of course, after a year and a half there, I was ready to go again, though not so far this time. I headed over to
UAH
, less than an hour away, but in a much bigger city than the one I'm from. This time, I was ready. My best friend was by my side once again (she had come home after spring semester and joined me at the community college, where we had lots of fun with all our old, familiar friends), and we jumped headfirst into traditional college life...sororities, clubs, parties, and boys.
Life was finally on the right track. I loved every minute at UAH, and ended up completing my master's degree there and working at the school for awhile. (I met Jeremy at one of those early parties, which certainly changed the course of my life again...but that's a story for another day.)
And what happened to the law school plans? Well, I worked at a large law firm in college, and though it was a good job where I made lots of contacts, I could see the stress that literally hung in the air in that place. Of course, it was a prestigious firm with lots of large corporate clients, and I realized that not all attorneys landed a job like that...but still. I couldn't imagine myself in a place like that. I decided I would probably always feel a little out of place in that world. I skipped the pressure and competition of law school and pursued a master's degree in political science, a field I loved and knew I would be happy studying. Ironically, I wound up working in the legal field anyway, though for a prosecutor, which is definitely the side of the law I prefer to be on!
Occasionally, I stop for a minute and remember the girl I was back then, back when I made all those decisions that changed the course of my life. What if I had taken the more bold path, thrown that stupid boy and all my insecurities to the side, and gone off to pursue that life I used to think I would have? How different would I be today? It's hard to picture myself at a huge university...would I have still chosen political science? If I had gone to London, would I have stayed? I know from my trip there several years ago that likely the only thing to bring me back would be my family. My family and my hometown do have quite the pull though, maybe I was always going to come back here. If I had gone to law school, or even chosen a different career path, where would I be now?
One single decision might have changed everything about the course of my life. If I had gone off to London or the faraway undetermined college, I would never have met my husband. Even if I had gone to UAH first, rather than waiting until my junior year, we might have met and not liked each other at all. We could have met and been dating other people. Who knows? And of course, without Jeremy, I wouldn't have the two sweet girls who now make my world go round.
Even if life didn't turn out the way I planned it all those years ago, I think it's a pretty great life to have. I've got a husband who is completely devoted to me and our family, who works hard for us, and who makes me laugh just about every day. We have built a good life together, laughing, loving, and squabbling through the years. We may not have prestigious careers or a swanky city townhouse, but I think we both do good, honorable work and we truly enjoy our jobs. We have a house that we love in the town that's played such a big part in my life. And we have two daughters who have brought a fulfillment to our lives that we never even knew we were missing. They have brought even more love and laughter into our world, and they've taught me to appreciate what really matters in life.
It may not be the road I imagined myself taking, but
someone
knew where I was headed all along. It's exactly where I'm meant to be, and exactly where I want to be. But I wouldn't say no to a vacation in London in a few years! (hint, hint...)
For I know the plans I have for you, declares the Lord. Plans to prosper you and not to harm you; plans to give you hope and a future. ~Jeremiah 29:11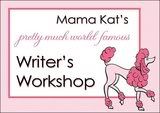 This is my first time to participate in Mama Kat's Writer's Workshop. Click on over and check it out!